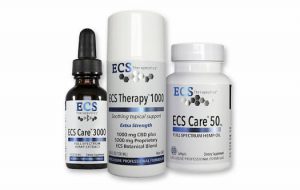 St. Thomas Chiropractor Tradewinds Chiropractic & Wellness carries a range of pharmacy grade full spectrum CBD from ECS Therapeutics.
ECS Care products are made with organically grown hemp and blended with organic, cold-pressed hemp seed oil.
ECS's pharmacy grade line will soon include non-hemp derived phyto-cannabinoid formulas that also support a well-functioning endocannabinoid system.