Your Comprehensive Guide to the US Virgin Islands Medical Cannabis Patient Care Act
Introduced August 7th, 2015 by Senator Terrance "Positive" Nelson in the 31st Legislature of the USVI, the Medical Cannabis Patient Care Act (MCPCA) sets the rules and regulations for medical marijuana in the USVI.
After years of sitting in the the VI Legislature, the MCPCA was finally passed, and signed by Governor Albert Bryan on January 17th, 2019 as Act 8167.
This guide explains what is in the bill and how it effects you. However, full rules and regulations for the medical cannabis industry have not yet been completed.
Currently, medical marijuana is legal in the Virgin Islands, but rules & regulations are still being drafted.
For moment by moment updates, check is USVI cannabis legal?
Office of Cannabis Regulation (OCR)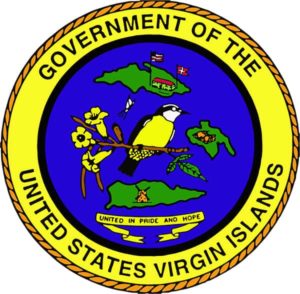 This is the USVI regulatory body proposed to oversee all cannabis related matters in the territory. The OCR will be under the Department of Licensing and Consumer Affairs (DLCA). Led by the 9-member USVI Cannabis Advisory Board, the OCR will be in charge of:
Registering & issuing medical marijuana cards (referred to as "med cards")
Regulating acceptable medical conditions for medicinal use
Licensing marijuana growers, cannabis testing facilities, and dispensaries
For more information on the OCR, please read What is the USVI Office of Cannabis Regulations.
USVI Medical Cannabis Patients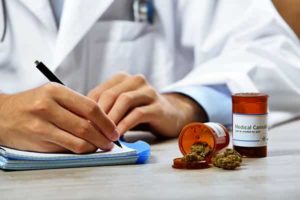 For a patient to be eligible for a med card, a medical practitioner must prescribe the use of cannabis for a qualifying medical condition.
Specifically, the USVI MCPCA describes the patient must have a:
(2) A chronic or debilitating disease or medical condition or its treatment that produces one or more of the following: cachexia or wasting syndrome; severe, debilitating pain; severe nausea; seizures; or severe and persistent muscle spasms, including, but not limited to, those characteristic of multiple sclerosis;

(3) Any chronic or debilitating disease or medical condition or its treatment or the symptoms related to any medical condition for which a healthcare practitioner believes the use of medical cannabis will provide a therapeutic or palliative benefit to his or her patient; or

(4) Any other medical condition or its treatment added by the OCR, as provided for in section 7. (Section 4 of MCPCA)
Cancer
Glaucoma
HIV
Hepatitis C
ALS
Crohn's disease
Ulcerative colitis
Parkinson's disease
Huntington's disease
Alzheimer's disease
PTSD
Traumatic brain injury
Hospice care
Arthritis
Diabetes
Chronic pain
Neuropathic pains
Check out our USVI Medical Marijuana Patient Guide for more information.
The MCPCA defines designated caregivers as anyone over the age of 21 who has agreed to assist patients with use of marijuana. After a caregiver is registered with the OCR, they may grow and buy marijuana for patients.
However, a caregiver may only assist a maximum of 3 patients, including themselves. Unless a caregiver works for a medical care facility, in which case they may treat more patients.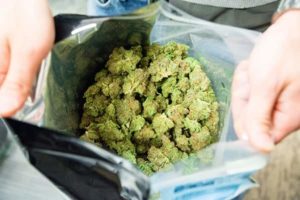 Virgin Island dispensaries will be able to buy directly from both growers and processing facilities.
From there, they will sell medical marijuana products to med-card holders. Dispensaries will also collect taxes (5% of sales) and pass them along to BIR.
Please read our guide, Starting a Cannabis Dispensary in the USVI for more information.
The MCPCA says that it doesn't forbid dispensaries from allowing patients to consume cannabis on the premises.
So there is an opportunity for medical marijuana clubs to serve patients in the VI.
For a listing of USVI cannabis dispensaries check out our lstings for your island.
Licensing regulations for cannabis growers in the USVI will have different tiers according to the number of plants at the grow facility. The growers licensing levels are: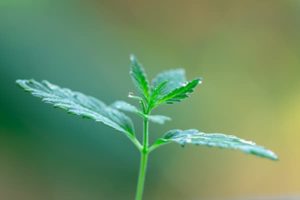 1 – Not to exceed 100 plants
2 – Not to exceed 500 plants
3 – Not to exceed 1,000 plants
The MCPCA states that these are the total plant counts a GrowOp may have, not just flowering cannabis plants.
Growers can only sell marijuana to processing facilities or dispensaries, they are not allowed to sell to med card holders directly.
The MCPCA taxes the sale of marijuana from growers to dispensaries and processing facilities at 10% of their per-pound selling prices. Each grow operation will be responsible for collecting these taxes and turning them into the VI Bureau of Internal Revenue (BIR). Check out where this tax money goes.
Finally, growers may not produce anything more than flowers or plant-based products. Therefore, only processing facilities may produce edibles, concentrates, extracts, salves, etc.
Read Starting a USVI Cannabis Grow Operation for more information.
Cannabis Manufacturing Facilities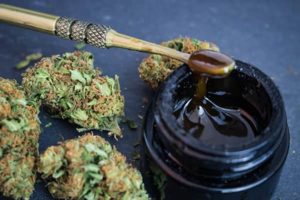 Processing facilities are the only businesses that can manufacture cannabis products, and must sell their goods to dispensaries. Patients can not directly buy from manufacturers.
In other words, processing facilities will buy flower, shake, and plant by-product directly from growers. These business can then produce concentrates, edibles, lotions, balms, oils, and other products for exclusive sale to dispensaries.
Though testing facilities are included in the law, but their functions and regulations are not clear. After briefly mentioning these "testing facilities", the MCPCA gives neither rules nor licensing fees of any sort.
The OCR will be in charge of quality control for marijuana and cannabis products, along setting guidelines for documenting the "nutritional facts" (THC and CBD levels) for said products.
Testing for pesticides, chemicals, and heavy metals is essential for a safe and healthy medical marijuana program in the US Virgin Islands.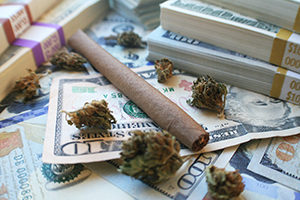 The USVI government plans to tax medical marijuana twice along its route from farm to patient.
Cannabis growers will pay a tax of 10% the sale price per pound of marijuana to a dispensary or processing facility.
Patients will have to pay 5% sales tax for cannabis-related products.
Of the tax revenue, the USVI General Fund will receive 25% of it to pay off the $500,000 loan it is giving the OCR to start the medical marijuana program.
The remaining 75% will be split between everything from infrastructure to supporting the arts.
Curious for more details? Check out where exactly the tax money goes.
Download the USVI Medical Cannabis Bill
Download the signed legislation below: