Tuesday night January 21, 2019, the Department of Licensing and Consumer Affairs (DLCA) hosted a hemp and cannabis town hall meeting at the Sunny Isle Amphitheater.
Three town halls will take place, with St. Croix on the 21st, St. John on the 22nd, and St. Thomas on the 23rd.
The event was advertised as a Hemp/CBD event on Facebook and the official press release. However cannabis was added to the radio advertisements, which was a surprise to some.
Who Was There?
Richard Tomas Evangelista – Commissioner of the DLCA

Miguel Tricoche

– Director of Consumer Affairs Division DLCA & VI Cannabis Advisory Board Member
Horace Graham – Director of Licensing Division DLCA
Ann Cecile O'Neill – District Counsel DLCA
Tionee Scotland – Press Assistant & Field Representative to US Congresswoman Stacey Plaskett
Terrance Positive Nelson – Commissioner Department of Agriculture & VI Hemp Commission Board Chair

Trevor Velinor

–VI Police Department Commissioner
Laurent Alfred – Attorney & VI Hemp Commission Board Member
Kye Walker – Attorney & St. Thomas / St. John Chamber of Commerce Member
Less than 100 members of the public were in attendance for the town hall. Including Senator Javan James Sr. and a representative for Senator Allison DeGazon.
Talk on Cannabis
Medical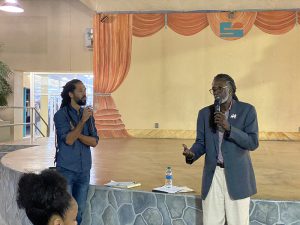 The current medical marijuana rules and regulations are being worked on!
Commissioner Evangelista said that 4 VI Cannabis Advisory Board (VICAB) members recently met to discuss rules and regulations. They are again planning to meet in the upcoming weeks with all 5 members present.
Evangelista said that if all 5 VICAB members are present they can reach a quorum. Even though the board doesn't have all 9 members, a quorum would allow them to pass rules and regulations.
Rules and regulation will be needed for both the medical and adult-use amendment. So this process is a big step forward!
Adult-use
"Recreational" cannabis is now official dubbed Adult-use cannabis. Major changes are coming to the bill sent down by Governor Bryan.
Adult-use permits are gone. The bill called for cannabis users, medical or not, to obtain a "permit" to purchase cannabis. Logistics of registering every user and visitor would create a huge amount of overhead. Not to mention security and privacy concerns of having a database of every cannabis user in the territory. This has been removed in the new draft legislation.
Non-medical personal grows are gone. The bill would have allowed adult-use permit holders to grow cannabis for personal use. Instead, only medical cannabis patients will be allowed to grow their own cannabis for personal use.
Changes to "Micro-Grows". Micro-Grows, licenses for small farmers, will change. Plant count are being revised. Also revisions to require dispensaries and manufacturers to buy a percentage of cannabis from these farms.
Manufacturing License Cap. A possible change to the amount of manufacturing licenses may take place. The original bill capped 10 manufacturers per island.
Capping cultivation licenses is smart, to stop the flood of cannabis into the market, crashing the price. However manufacturing caps would limit the amount of choice and type of products on the market. Making the licensing approval board choose what types of products come to market.
Capping could create a situation where 1 manufacturer makes 20 subpar products. Instead of 20 manufacturers each specializing in 1 unique product. Create more opportunity and let the market decide.
Taxes and Fees. While not brought up, there is reason to believe the taxing structure will change. With adult-use permits being gone, new revenue will need to take it's place. The most obvious way would be different tax percentages for medical users, residents, and non-residents.
Still to come. Many details are still being worked out, anything could change in this process. For now, the possibility of adult-use cannabis seems a bit brighter.
CBD & Hemp Licensing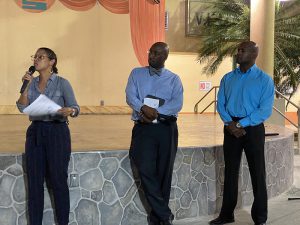 The Department of Licensing and Consumer Affairs requires all businesses that sell CBD and hemp derived products to hold a new license.
The Hemp Product Retailers License is an add-on license for business owners. The license costs $260, with a $50 application fee.  Business owners must also sign a waiver, which includes the rules and regulations for selling CBD and Hemp products.
As of January 14th, 2020 you are required to have a Hemp Product Retailers License from the DLCA.
A question from the audience turned to accusations of the DLCA trying to cash-in on CBD licensing.  Ann Cecile O'Neill, DLCA Counsel, explained that since CBD is under FDA regulations, a new license must be instituted for proper rules and regulations. Just as alcohol or tobacco sales need add-on licenses and waivers.
Hemp Cultivation & Processing
Industrial hemp is defined as cannabis that has less than .3% THC. Hemp was federally legalized in the 2018 Farm Bill.
Department of Agriculture Commissioner Terrance Positive Nelson spoke about the status of hemp cultivation.
The Department of Agriculture has submitted a draft to the US Department of Agriculture for approval.  Once the approval is granted from the USDA, local rules and regulations will have a 60 days of public comment.
Industrial Hemp Board member Laurent "Tippy" Alfred explained that all hemp will be grown from approved seed vendors.  Hemp grown in the USVI will be from feminized seeds. Therefore this will reduce the risk of possible cross-pollination of hemp and cannabis. Male hemp pollen is able to travel up to 10 miles in the right conditions.
Customs / US Postal Service Seizures
Tionee Scotland, spokesperson for Rep. Stacey Plaskett, said that their office is aware of issues with the USS and Customs seizing legal hemp products. Scotland said that all shipments must adhere to Publication 52 of the USPS code. She advised any business that has had products confiscated to file a complaint with the USPS and to contact her office at tionee.scotland@mail.house.gov
USPS Publication 52 Section 453.37 on hemp and CBD Shipments can be found here.
Conclusion
There are still two more CBD/Hemp Town Halls planned for St. John and St. Thomas. If you are interested in learning more, have questions, or have insights into upcoming legislation, please show up and have your voice heard. This is your time!
St. John: Wednesday, Jan 22nd 6PM at the Cleone Henrietta Creque Legislative Building
St. Thomas: Thursday, Jan. 23rd 6PM at the Small Business Development Center located in Nisky Center