The Virgin Islands Cannabis Use Act was passed onto the Committee of the Whole on December 18th, 2019. The bill was voted on favorably 9-6. Further consideration of the bill will take place in the Senate, with the inclusion of numerous amendments. The VI Cannabis Use Act was assigned bill #33-0235.
On December 3rd Governor Albert Bryan Jr. made a surprise announcement of a recreational cannabis bill that would help sustain GERS from insolvency. The announcement called the VI Legislature into a special session to consider the bill.
UPDATE: Debate on whether the recreational bill is "Moving Forward" has come up. It was VIBE HIGH's view that this bill had a ZERO percent chance of becoming law, as the bill is currently written, in special session. Therefore, a vote in favor of the bill for further consideration, and assigning a bill number is forward progress.
The Special Session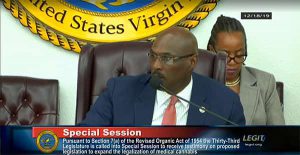 Senate President Novelle E. Francis Jr. oversaw the special session, which included 4 testifiers. Commissioner of the DLCA Richard Tomas Evangelista, Attorney Kye Walker of the St. Thomas – St. John Chamber of Commerce, and Attorney Laurent Tippy Alfred were testifying in favor of the bill. While former Superior Court Judge Soraya Diase Coffelt was testifying against the bill.
Each Senator was granted 6 minutes of time during the session.
The first statement of the day was the objection to calling the VI Cannabis Use Act a "recreational marijuana bill". Sen. Novelle Francis contested that the media, and the general public, were wrong in calling this a recreational bill. Comm. Evangelista made the point that, because someone would need to get a permit to buy cannabis, it can't be recreational. This argument was later eviscerated by Senator Kurt Vialet. The Senator asked the commissioner if anyone would be able to buy marijuana. The commissioner responded as long as they were 21 and had a permit. Senator Vialet responded, "So anyone…"
If you have been following along with VIBE HIGH's coverage of the VI Cannabis Advisory Board (VICAB) hearings, you know there are running themes to questions asked by Senators.
"What about the children?"
Anecdotal police stories.
No mention of environmental issues.
This hearing was no different. We will leave coverage of the hand-wringing to other news sources.
Excluding those mentioned themes, three major topics were discussed. Hope to save GERS is unjustly pushing this legislation forward. Second, is the USVI even capable of enforcing any type of cannabis regulations? And finally, this bill is flawed and was hastily put together.
GERS
The USVI Cannabis Use Act taxes all cannabis sales at 25%. From those taxes, the Government Employees Retirement System (GERS) will receive 75% of the revenue.
Senator Janelle Sarauw said that it is "disingenuous" to use GERS as a means to legalize cannabis. Sarauw was joined by Senator's Allison DeGazon and Alicia Barnes in this sentiment. Each blasting the Governor for using GERS and other "red-meat" to get the bill passed. Coincidentally, all of the aforementioned Senator's fully support cannabis legalization, just not in this manner.
STT-STJ Chamber of Commerce representative Attorney Kye Walker testified about projected tax revenue from recreational cannabis. Estimating over $20 million in annual tax revenue. It was later revealed that the estimates used to come up with that number were assuming 3 million tourists a year. Unfortunately, the US Virgin Islands has not seen that amount of tourists in many years. The figure is closer to 1.5 million tourists, halving the tax estimate to $10 million per year in revenue.
GERS, which has a shortfall of billions of dollars, can not be saved by $10 million in new revenue.
Enforcement
Former law enforcement officer Senator Kenneth Gittens was vocal about current cannabis laws. Asking why we are adding new laws, when old laws are not being enforced. Noting that VIPD has not written a single ticket since cannabis was decriminalized in the USVI. Cannabis was decriminalized in 2014, a citation is supposed to be written for possession of less than 1 ounce.
Senator Sarauw stated that the US Virgin Islands suffers from "enforcement deficiency". For example, Sarauw brought up the DLCA's poor enforcement of expired food on store shelves. Asking how are we going to enforce cannabis regulations, when we can barely regulate our food?
A Flawed Bill
General consensus among Senators is that the Virgin Islands Cannabis Use Act is a flawed, hastily put together bill. Here is a rundown of some of the issues brought up about the bill.
Who wrote the bill? None of the testifiers were able to answer who's the author of the USVI Cannabis Use Act, or where it came from.
The Office of Cannabis Regulations (OCR) and VICAB are extremely powerful. The recreational bill is lacking in detail, such as licensing pricing. Senators were uncomfortable with the "power" of the OCR and CAB to set policy without oversight.
The Bill does not do enough to include Virgin Islanders. "Merit-based" application processes excludes new entrepreneurs. Giving advantage to experienced and current business owners to own and operate cannabis businesses.
Who will be taxed? Residents, non-residents, medical patients, sacramental users? Testifiers stated only non-residents will pay taxes. On the other hand, the bill says only resident medical patients and sacramental users are tax-exempt. Why the confusion? Why are we only taxing non-residents?
The bill's "micro-cultivators" are completely unregulated.
Why are we giving tax exemption to cannabis businesses in RTPark? If this bill is about generating tax revenue, why is the USVI already offering tax breaks?
What are "reasonable royalties"? A royalty system could be abused by outside corporations to skirt the 10-year residency rule for cannabis business owners.
Who qualifies for sacramental use? The bill says that Rastafarians that are members of a non-profit qualify as "Sacramental Users". How does that work? What kind of non-profit? What rights do they have?
We are sure to see amendments tackle these subjects and more. The Senators only had 15 days to review the legislation. You can bet more issues are lurking within the bill.
How They Voted
With all the flaws that were brought up during the special session, Senator's from the 33nd Legislature still voted in favor of the bill 9-6.
Novelle E. Francis Jr. – yay

Myron D. Jackson – yay

Marvin A. Blyden – yay

Alicia V. Barnes – yay

Allison L. DeGazon – yay

Janelle K. Sarrauw – yay

Oakland Benta – nay
Dwayne M. DeGraff – nay
Kenneth L. Gittens – nay
Donna Frett-Gregory -nay
Stedmann Hodge Jr. – yay
Javan E. James – yay
Steven D. Payne Sr. – yay
Athneil J. Thomas – nay
Kurt A. Vialet – nay
What Happens Next?
The VI Medical Cannabis Patient Care Act (MCPCA) is still the law in the USVI. What happens with the current December 31st MCPCA deadline? Is the USVI going to stop the implementation of the MCPCA while the VI Cannabis Use Act is worked out? Where are the rest of the VICAB nominees?
These questions currently do not have answers. Therefore, the current state of cannabis in the USVI is unknown, it's future uncertain.
The US Virgin Islands needs to get it's act together quickly on medical or recreational cannabis before it's too late.