Virgin Islands Cannabis Advisory Board (VICAB) nominees Dr. Nicole Craigwell-Syms and Department of Agriculture Commissioner Positive Nelson testified in front of the Rules and Judiciary committee on October 10th, 2019. The Rules and Judiciary committee is chaired by Senator Janelle K. Sarauw of St. Thomas.
Dr. Nicole Craigwell-Syms, Representative of the Department of Health was unanimously approved by the Rules and Judiciary Committee.
Commissioner Positive T. A. Nelson, Representative of the Department of Agriculture's nominee was held in committee due to eligibility concerns.
A third VICAB nominee, Dr. Gary Jett M.D, was set to testify, but was not in attendance. No reason was given for his removal from the agenda. Dr. Jett was listed as a VICAB nominee on the committee agenda for October 10th that was published last week.
Eligibility & Conflict of Interest Concerns
The testimony got off to a slow start. Dr. Craigwell-Syms and Comm. Nelson gave their opening statements, after which Sen. Sarauw immediately put the committee into recess due to a lack of members in attendance.
After a long recess and return to order, Senate Legal Counsel brought up legal and eligibility concerns with Nelson's appointment to the board. The Revised Organic Act Section 6(f) states:
No member of the legislature shall hold or be appointed to any office which has been created by the legislature, or the salary or emoluments of which have been increased, while he was a member, during the term for which he was elected, or during one year after the expiration of such term.
The argument is, what constitutes "office"? This did not apply to Nelson's appointment as Commissioner of Agriculture, since the position already existed previous to his time in the legislature. However, adding him now as a member of the VICAB may be a conflict.
As a Senator, Postive Nelson was the author of the Medical Cannabis Patient Care Act (MCPCA). In his last days as a Senator, Positive was able to see his MCPCA bill passed and signed by Governor Albert Bryan Jr. The medical cannabis law establishes the formation of the VICAB, the board for which Neslon is now nominated.
In appearance, the intent of the law seems to prevent any legislators profiting from legislation they had a direct hand in crafting. Ultimately, officials cannot create a government position, only to fill it themselves. Commissioner Nelson pointed out; VICAB members who are government officials are not paid to serve on the board. Alternately, private sector VICAB members do receive a small stipend.
Senator Kenneth Gittens got straight to the point. Asking both Dr. Craigwell-Syms and Comm. Nelson if they, or immediate family, have any personal plans to operate a cannabis business. Both nominees answered that they do not have any family members with, nor do they themselves have,  any plans to operate a Virgin Islands cannabis business.
It should be known that the VI Cannabis Advisory Board will not be issuing any cannabis business licenses. The function of issuing cannabis business licenses will eventually fall on the Office for Cannabis Regulations (OCR).  The VICAB's function is to create the rules and regulations for the OCR to enforce.
What They Had to Say
With only 4 members of the Committee of Rules and Judiciary present, many subjects from the last VICAB hearing did come up again.  Senator Javan James focused on jobs and keeping cannabis away from children. Others questioned whether the VICAB will be able to meet their December 31st deadline.
Discussion of the vaping crisis currently plaguing our community, and the United States, was on everyone's mind. We at VIBE HIGH have given no public statements on the problem; our focus is on the legal cannabis market. The problem lies with CBD/THC vape products that come from the unregulated black market. This is the very reason our cannabis industry needs rules and regulations. Not just vaping, but the entire industry needs to be properly regulated – just like every other commercial industry.
Transportation of cannabis between the islands of the USVI came up.  This issue was discussed in the last hearing as well. VIBE HIGH will have a dedicated article to that subject, and its legal controversy.
Not a single question was raised over environmental issues, like single-use plastic waste. While one packaging issue did come up, it was regarding packaging which may be easily marketed towards children.
Dr. Nicole A. Craigwell-Syms
Representative of the Department of Health(DOH), Dr. Craigwell-Syms reaffirmed the position of the DOH to educate the public about medical cannabis. She spoke of the hurdles of breaking the cannabis stigma. These stigmas and anecdotal observations were on full display by the Senators themselves during these testimonies. This is an issue that we at VIBE HIGH have addressed, and continue to struggle with.
Commissioner Positive T. A. Nelson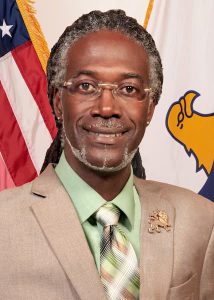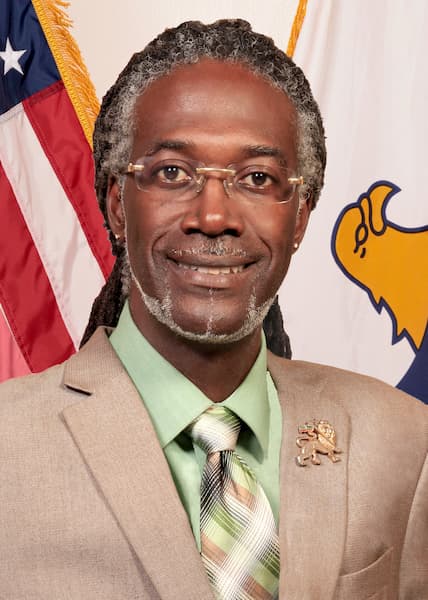 Representative of the Department of Agriculture, Commissioner Nelson brought along some CBD products to show off to the committee. He continued his pursuit of trying to educate the attending members of the committee about cannabis.
On the topic of Agriculture, Comm. Nelson stated that he was committed to keeping current farmers producing food, and not cannabis and hemp. He stated that most farmer's lease agreements would not actually allow them to enter the cannabis market. Aside from that, not much more was brought up about agriculture and cannabis.
What's Next?
Four of the Virgin Islands Cannabis Advisory Board members are now headed for approval to the full legislature. The issues with Commissioner Positive Nelson still need to be sorted, and another four VICAB members still have yet to be formally nominated by Governor Albert Bryan Jr.
With each passing day, the deadline of December 31st for rules and regulations looms larger. While every VICAB member has testified that the deadline can be met, the longer we do not have nominees the less likely that becomes.