Today, November 13th, 2019, two nominees to the Virgin Islands Cannabis Advisory Board (VICAB) were approved by the Rules and Judiciary of the 33rd Legislature. They now head to the full Legislature body for approval.
Testifying were, health practitioner representative, Dr. Gary Jett MD. and disability advocate representative, Mr. Christopher T. Jones.
What Everyone Had to Say
This is now the third VICAB hearing in front of the Rules & Judiciary Committee in 2 months. Many of the very same questions and concerns were raised as in the last two hearings.
Some of the questions that are being asked of these nominees look to be more about whether medical marijuana should be legal, not about how these nominees plan to safely put in place the program. However medical marijuana in the USVI is already legal.
Senator Novelle E. Francis Jr. continued with his concerns about children getting medical marijuana. Claims were made that children are being sold edibles in school. He did not elaborate on where or by whom they were being sold.  No suggestions were made to verify or address the subject.
In previous hearings, these concerns were also brought up, with nominees telling the committee that usage of cannabis by children decreases when regulatory programs are enacted. Studies agree, children's use of cannabis goes down in recreational and medical states.
Continuing the new tradition, not a single question was asked about environmental concerns.
Dr. Gary Jett M.D.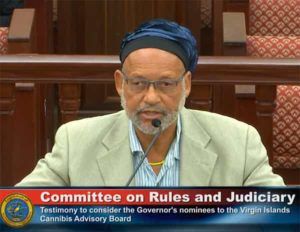 Health practitioner representative Dr. Gary Jett MD is a medical cannabis physician. He specializes in pain management, with practices in Barren Spot on St. Croix, and in Florida. He is registered to prescribe medical cannabis in the state of Florida.
While he considers St. Croix his home, he has been a registered voter in the state of Florida for 2 years. Dr. Jett testified that he pays taxes in the US Virgin Islands.
Sen. Kenneth L. Gittens seemed to take an interest in Dr. Jett's residency, but in the end voted favorably for him.
Sen. Javan E James Sr. asked the Doctor if he has personally seen "cures" from medical marijuana. Dr. Jett – a physician who specializes in pain management – stated that he had not. Senator James continued, asking "No cases of curing anything in the world?" Dr. Jett, seemingly confused, answered "No."
Mr. Christopher T. Jones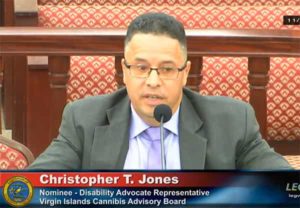 Disability advocate representative Christopher T. Jones testified to a smaller set of Senators. With a WAPA outage cutting off Senator's Alicia Barnes and Javan James, who were on Skype from St. Croix.
St. Croix resident and business owner, Mr. Jones is the primary caregiver to his wife who suffers from primary progressive multiple sclerosis.
With a large resume of private and public sector employment, he said that his caregiver status was why the Governor selected him to represent persons with disabilities.
Up Next
We now have 6 members of the 9 required members for the VI Cannabis Advisory Board. Comm. Positive Nelson's nomination is still on hold in committee.
The VICAB has until December 31st, 2019 to come up with all the rules and regulations for the medical cannabis industry.
No further hearings have been announced, with a very busy holiday season approaching.