On June 12, 2020 the Virgin Islands Cannabis Use Act was up for debate in front of the 33rd Legislature. Senate President Novelle E. Francis Jr. oversaw the proceedings. No vote was taken during the session, but is expected on June 29, 2020.
A long list of advocates were invited to testify on behalf of the bill.
Police Commissioner Trevor A. Velinor
Dept. of Agriculture Commissioner Positive T.A. Nelson
Dept. of Health Commissioner Justa E. Encarnacion
DLCA Commissioner Richard T. Evangelista
OMB Chief Economist Dr. Mark Wenner
STT-STJ Chamber of Commerce Representative Kye Walker
St. Croix Chamber of Commerce President Ryan Nelthropp
Virgin Bud Company Representative Adam Paul
VI NORML Barbara LaRonde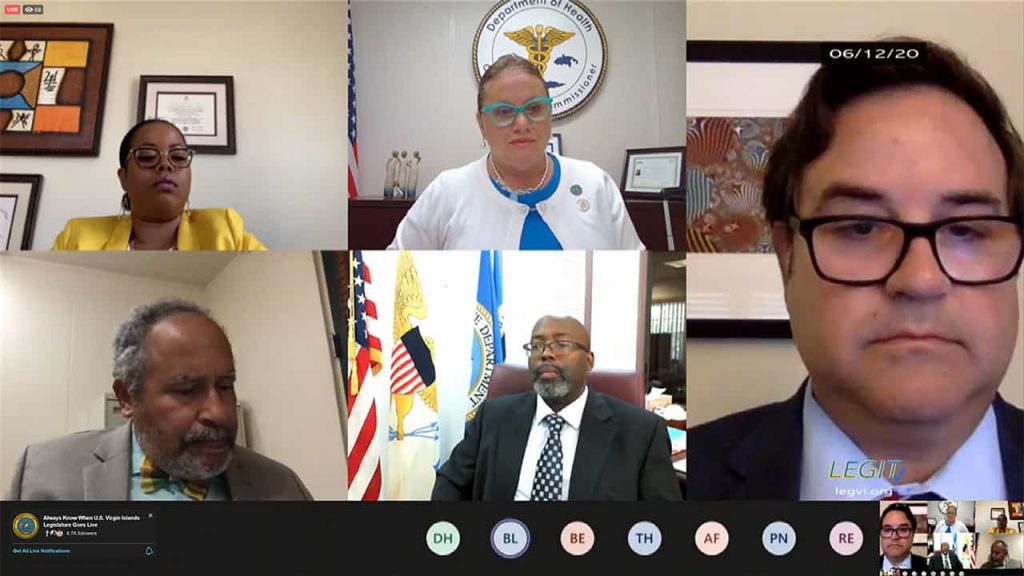 This is the second time the Virgin Islands Cannabis Use Act has been before the legislature. Governor Albert Bryan Jr. called for a special session in December, where it was not received well. Since then, the bill has undergone a rewrite, fixing issues brought up during the special session and after several town hall meetings.
Financial Projections
USVI Chief Economist Dr. Mark Wenner introduced his financial projections for cannabis tax revenues. Estimating $13M in revenue for the first year, with revenues increasing for the next three years. Wenner's estimate was the lowest to date by any government official, which takes into account the tourism downturn due to COVID-19.
However, St. Thomas / St. John Chamber of Commerce representative Kye Walker is projecting $23M in tax revenue. A spreadsheet provided by Ms. Walker was the same that contained a $10M error, but was updated before her testimony. Although the major $10M error was fixed, the revised document still contains mathematical errors (Cell D29).
Reasons for the difference in tax revenue estimates include the number of tourists and local resident's cannabis usage. One of the biggest separators in opinion came from the Chamber, who expect 1-day-visitors to spend an average of $125 at USVI dispensaries.
St. Croix Chamber of Commerce President Ryan Nelthropp said in his submitted testimony,
there is a cautionary tale in that many states have grossly overestimated their sales projections. For that reason, we urge the Government of the US Virgin Islands to use caution before budgeting with any monies that have yet to be seen.
Senator Issues
Senator Allison L. DeGazon intends to add an amendment that will remove the "adult-use permit" from the bill. The US Virgin Islands would be the only legal cannabis state or territory that would require a permit to purchase cannabis.
Senator's Stedmann Hodge, Jr. along with Degazon, both brought up potential legal issues with the residency requirements. The bill requires a majority business owner to have lived in the Virgin Islands 10 of the last 15 years. Issues pertaining to residency requirements were also brought up by Adam Paul, and how it may stifle outside investment and startup capital for Virgin Islander entrepreneurs.
Continuing on this track, Senator Alicia Barnes and Vice-Chairperson Myron Jackson, both strongly felt that the legislation does not go far enough helping disenfranchised Virgin Islanders. Jackson questioned Kye Walker about the specific changes made to the bill to help those who have been most effected by the "War on Drugs". Barnes said that the bill did not go far enough to help residents get into the industry.
Virgin Islands Cannabis Use Act sets aside 5% of all taxes to a "Cannabis Fund". This fund is meant to provide micro-lending and cannabis training to low-income residents. While this exists in the bill, the cannabis industry would be well underway before this money was available.
Senate President Novelle E. Francis took issue with the definitions for Sacramental Usage of cannabis. Raising concerns on the definitions outlined in the law and how exactly does one qualify as Rastafarian. The law is not clear how someone qualifies for measure.
Enforcement
Ryan Nelthropp, President of St. Croix Chamber of Commerce, brought up the issue of enforcement in his written testimony,
Our members are most concerned about the realities of enforcing regulation and quality control procedures to the highest degree. The amendments establish clear protocols. However, as commonly experienced in the Territory, enforcement of regulations is often overlooked due to oversight by unqualified or ineffective individuals. We need to ensure there is a level playing field for those seeking to become legally established within the cannabis industry. As the industry evolves, we also need assurance that regulations will be continuously reevaluated to meet the highest standards.
Senator Kenneth L. Gittens also got into it on the enforcement issues with Police Commissioner Trevor A. Velinor. Asking Velinor for information about citations written by local law enforcement under the USVI Cannabis Decriminization Act. Persons caught with less than 28 grams of cannabis in the VI are subject to a $100 fine. Police Commissioner Velinor was unable to provide the how many citations were written since the law passed in 2014.
Gittens' was hinting that the lack of enforcement that has plagued the VIPD, will also occur with cannabis. However, enforcement of most cannabis issues will be handled by the Office of Cannabis Regulations (OCR), which currently does not exist.
Amendments Are Coming
Senator Allison L. DeGazon was the first to bring up the idea that amendments are on the way. Stating that a government run database of all cannabis users was a very bad idea. So the adult-use permit may be out the door with an amendment. This is not the first time that removing the adult-use permit has been addressed.
Senator Donna Frett-Gregory stated that she had a "pile of amendments" waiting for the bill. What they may include is not yet known. We should know more in the next week or two.
Frett-Gregory said strongly to her colleagues "Bring your amendments". Encouraging those who are against the bill to either legislate or get out of the way.
While not explicitly stated, it would not be surprising to see Senator Janelle K. Sarauw have her own amendments. Sarauw seemed to have an issue with the cannabis expungement section of the bill. Her own expungement bill has been under legal review for over a year, while the current cannabis bill seems to not have been reviewed at all.
What's Next?
Senate President Novelle E. Francis indicated that he would like more amendments and more community input on the bill. Calling for Session of the Whole meetings on St. John and St. Croix in the coming weeks. He would like to have the Session vote on the bill in the next legislative session scheduled for June 29, 2020.
It seems likely this bill will be passed, but it's unlikely to be passed in it's current form. Amendments big and small are coming to change the Virgin Islands Cannabis Use Act.