On May 20, 2020, US Virgin Island's Governor Albert Bryan Jr. unveiled the new "reworked" adult-use cannabis bill. After weeks of calling on the legislature to pass the bill, he has finally provided the document.
Governor Bryan introduced the first adult-use cannabis bill back on Dec. 3, 2019. Seen by many senators as rushed, with no input from the legislative body or members of the public, it failed.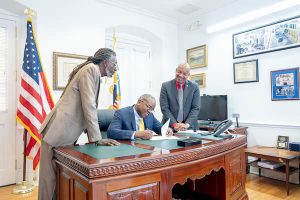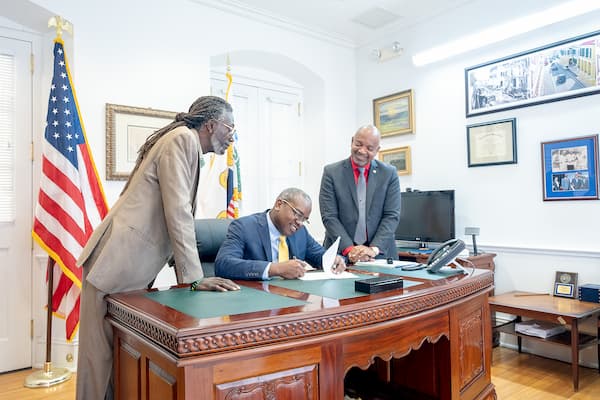 Medical marijuana has been legal in the US Virgin Islands since January 2019. Delays have impacted the implementation of medical marijuana in the territory. Failure, and lack of, VI Cannabis Advisory Board (VICAB) nominations being the major contributor. Feb. 27, 2020 was VICAB's first official meeting. All five board members attended, with the remaining four members still not nominated.
The governor is betting that taxes on adult-use marijuana will be a life line for the failing Government Employees Retirements System (GERS).
What's in the New Adult-Use Cannabis Bill?
The new act is called The Virgin Islands Cannabis Use Act.
Permit is required for all cannabis use, adult-use permit will cost $25.
Adult-use Permit holders will not be able to cultivate cannabis.
Medical Cannabis users will be able to cultivate plants. Number of plants not specified.
Anyone over the age of 21 may purchase cannabis as a "Non-Certified purchaser"
The VI Cannabis Advisory Board will be changed to the Virgin Islands Cannabis Licensing Board. From 9 members to 11.
Cannabis Limits
On a daily basis a Medical Cannabis Dispensary may not sell more than:
Non-Resident
Seven (7) Grams of Medical Cannabis, three (3) Grams of Medical Cannabis Concentrate, and five hundred (500) milligrams of Medical Cannabis Products
Resident
One (1) ounce of Medical Cannabis, ten (10) Grams of Medical Cannabis Concentrate., and two thousand (2,000) milligrams of Medical Cannabis Products
Cannabis edibles will be capped at 100mg dosage. No other potency limits are in the bill.
Taxes
Tax on cannabis will be no less than 7.5% for residents, 25% for non-residents, and 0% for medical card holders.
Cannabis Cultivation Licensee will pay $0.50 per gram sold to manufacturers and dispensaries.
Cannabis Businesses
Residency requirement to own a cannabis business is 10 years. Micro-cultivation licenses 5 years.
In St. Thomas & St. Croix, max 15 cannabis cultivation licenses & 7 cannabis dispensaries.
In St. John, 5 cannabis cultivation licenses, 3 cannabis dispensaries.
No limits on manufacturing licenses.
Cannabis dispensaries must acquire 10% to 50% of its cannabis from micro-cultivators. Final number to be set by OCR.
All cannabis licenses will be on a merit-based system.
Permit & Business Licensing Fees
One Thousand Dollars ($1,000.00) for a Micro-Cultivation Permit
One Thousand Dollars ($1,000.00) for a Non-Certified Use Permit
Twenty-thousand Dollars ($20,000.00) for a Cannabis Cultivation License
Fifty-thousand Dollars ($50,000.00) for a Cannabis Dispensary License
Ten-thousand Dollars ($10,000.00) for a Cannabis Manufacturing License
Fifty Dollars ($50) for a Medical Patient Registry Card
Twenty-five Dollars ($25) for an Adult Use Permit
Special "Cannabis Fund"
Will receive 20% of all tax revenue generated
Funds the Office of Cannabis Regulations
Fund the formation of joint-run hemp & cannabis testing lab between University of Virgin Islands & Dept. of Agriculture
Grant program to provide business incubation and micro lending
Provide job training program for VI residents looking for a career in cannabis
Substance abuse programs
Sponsored research
Full updates on the bill to come. Link to the full bill can be found here.
Gov's Calls to Pass Adult-Use Bill
Since the failure of the adult-use legislation to pass in Dec. 2019, calls to pass the legislation has only increased. Staring with Governor Albert Bryan Jr.'s State of the Territory address in January.
Announced during a town hall meeting in January, the bill was being rewritten. The changes would include issues brought up by senators, and members of the community.
During a COVID-19 briefing on April 27th, USVI Gov. Bryan again called for the legal marijuana bill to be passed.
"We have taken the time to gather further public input as well as address the concerns of the individual legislators," the governor said during a COVID-19 update. "As the economic disaster, the last few weeks has created has affected the GERS greatly it is our hope that we can have a greater sense of exigency in implementing all the things that can help us regain solvency."
Bryan also said during the address that the new revised adult-use cannabis bill would be sent to lawmakers the next day.
VIBE HIGH reached out to six government officials and senators on April 28th. Senator Janelle Sarauw responded to our inquiry, "Nothing has not come down yet." she said. No one else responded, including government house spokesperson Richard Motta Jr.
In the governor's latest COVID-19 address on May 18th, he said:
"We have listened to the concerns of the public and our senators have included them in the new draft of the bill," Governor Bryan said about the amended Cannabis Act before the 33rd Legislature. "I am urging the Legislature to act swiftly and pass this revenue measure as soon as possible."
On May 20th, 2020 the VI Cannabis Use Act was released.  You may find a copy below.