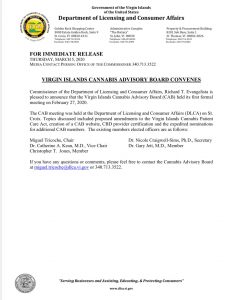 The VI Cannabis Advisory Board (CAB) met for the first time on February 27th, 2020. The meeting took place at the Department of Licensing and Consumer Affairs office on St. Croix.
On the agenda:
Amendments to the VI Medical Cannabis Patient Care Act
Creation of a CAB website
CBD provider certification
Expedited nominations for additional CAB members
Board elections were also held at the meeting.
Chair – DLCA Representative, Miguel Tricoche
Vice Chair – Medical Practitioner, Dr. Catherine A. Kean M.D.
Secretary – Department of Health Representative, Dr. Nicole Craigwell-Sims Ph.D.
All five of the CAB members were present for the meeting, although, the board is supposed to be made up of nine members. The CAB can conduct its duties with the bare minimum of 5 members, reaching a quorum.
The nomination and approval of the VI Cannabis Advisory Board has been a long process, taking almost a full year for members to be nominated and confirmed. In fact, the first nomination took place on July 23rd, 2019, with all five members waiting until late December, 2019 for full confirmation. Four board positions are still vacant.
The VI Medical Cannabis Patient Care Act (MCPCA) became law on January 17th, 2019. However, an "Adult-Use" Cannabis bill was introduced which would replace the MCPCA. No Senate action has taken place on the bill since its original hearing on December 18th, 2019.