On June 26, 2020, the Rules & Judiciary Committee gave the green light to Positive Nelson's cannabis board position and new cannabis legislation.
During the hearing, Chairperson Senator Janelle K. Sarauw introduced a new bill that will change the VI Cannabis Advisory Board (VICAB). The law will increase the board from 9 members to 11, along with the representatives that makeup of the board.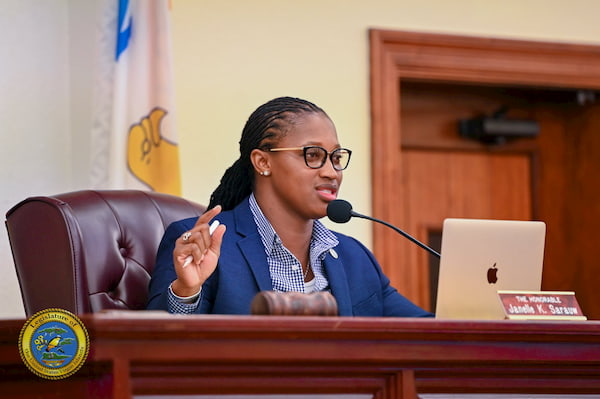 This is the first cannabis legislation to be voted on since the Medical Cannabis Patient Care Act (MCPCA) became law in January 2019. In the year and a half since it's passage, seemingly nothing has taken place. The blame is squarely on Governor Albert Bryan Jr's failure to nominate members to VICAB.
Throughout 2019, Bryan has taken his time announcing nominations to the VICAB. Only nominating 7 members, with one withdrawing and Positive's confirmation held in committee. In total, it took a year to complete confirmation of the 5 members serving on the board. Their first official meeting took place in March 2020, citing failure to reach a quorum as their biggest issue.
Meanwhile, Governor Bryan was able to introduce two adult-use cannabis bills, call on the senate to pass the bills on multiple occasions, and give a presentation on cannabis revenue with a $10 million dollar error.
Positive's Nomination Hearing
First cannabis related matter on the Rules & Judiciary's agenda was the nomination of Dept. of Agriculture Commissioner Terrence Positive Nelson to the cannabis board.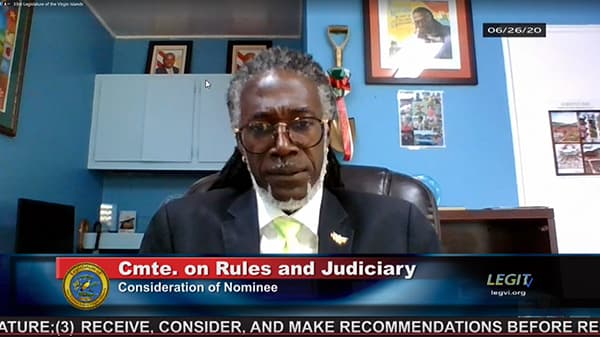 This was the former senator's second attempt getting on the board. With his first nomination being held in committee due to "conflicts", having since been resolved, his nomination could proceed.
Positive's qualifications to serve on the board were not up for debate. Committee members, most having served with him as a senator, know full well his qualifications. So the hearing's focus was how cannabis in the Virgin Islands can move forward, including if recreational should be considered.
Senator Javan James Sr. said, "I'm expecting you to make things happen and get [medical cannabis] up and running once and for all."
Nelson said that the consensus with most jurisdictions that have legalized medical & recreational cannabis, if they had the opportunity to do it over, they would do both at the same time. Most legal cannabis states first enacted medical marijuana laws before going full recreational.
Commissioner Nelson was unanimously confirmed to the VI Cannabis Advisory Board and will be headed to full legislative body for further consideration. Rules & Judiciary Committee members voted:
Janelle K. Sarauw – Yes
Novelle E. Francis, Jr. – Yes
Javan E. James, Sr. – Yes
Alicia V. Barnes – Yes
Steven D. Payne, Sr. – Yes
Myron D. Jackson – Yes
Kenneth Gittens – Absent
New VICAB Legislation
On Wednesday, Senator Janelle K. Sarauw's made the announcement that she will be bringing up new VICAB legislation. This new bill will expand the VICAB from 9 members to 11. It removes some government positions from the board, while adding more private-sector positions. Sarauw said the intent is to make board "non-partisan, non-political".
In addition, the new VICAB bill states that the governor will have 20 days to appoint all remaining board members. The board will then have 45 days to come up with the rules and regulations to establish the OCR.
Senator Alicia Barnes had reservations about passing the legislation without testifiers. Senator Sarauw explained that the chamber has heard from testifiers in session. With this new bill correcting an issue brought up during that session. Specifically, the concerns about the "lack of expertise" on VICAB.
With the reservations resolved, the Rules and Judiciary Committee voted unanimously to move the bill to the full 33rd Legislature for further consideration. Committee members voted:
Janelle K. Sarauw – Yes
Novelle E. Francis, Jr. – Yes
Javan E. James, Sr. – Yes
Alicia V. Barnes – Yes
Steven D. Payne, Sr. – Yes
Myron D. Jackson – Yes
Kenneth Gittens – Absent
If the new bill is made into law, the VI Cannabis Advisory Board will be made up of the following representatives.
Farming Representative
Expert in Cannabis Technology
Economist
University of the Virgin Islands Representative
Dept. of Health Representative (Currently Ms. Nicole A. Craigwell-Syms)
Three Health Care Practitioners – including one Pharmacist (Currently Dr. Catherine A. Kean & Dr. Gary Jett)
Dept. of Agriculture Representative (Currently Pending Terrence Positive Nelson)
Disability Advocate (Currently Christopher T. Jones)
Naturopathic Medicine Representative
Unfortunately, DLCA Representative Miguel Tricoche, who is the sitting chair of VICAB, will be removed if the new bill is passed.
Wrap Up
Department of Agriculture Commissioner Terrence Positive Nelson is one step closer to joining the VI Cannabis Advisory Board. Although, the board may not be the same as it is now.
If the new VICAB bill is passed, the number of board members will change from 9 to 11. Governor Albert Bryan Jr will then have 20 days to name all members to the board. He will need to act fast though. With the increase in members, and the removal of Mr. Tricoche, the board will no longer have a quorum. Setting up for the potential to drag cannabis legalization in the US Virgin Islands out even longer.
Both items will potentially be heard during the senate's next legislative session on Monday, June 29.